A Career That Makes A Difference
MIN is a growing 501(c)(3) nonprofit with a number of new and exciting initiatives. To apply, send your resume and salary requirements to info@211md.org. No phone calls please.
Open Positions
Care Coordination Internships
Maryland Information Network, Inc. has created an internship program that provides interns with educational experience. Our goal is to develop a platform that will make this process simple, practical, legal, and, most importantly, enjoyable. We appreciate your interest in sharing your expertise and experience with 211MD/MIN. Gaining relevant educational and practical insight into the structure and functions of organizations is the main goal of any intern. We are aware that a real workplace is the finest setting for gaining this experience. We appreciate your time and efforts on behalf of Maryland Information Network, Inc.
Procedure
211MD/MIN internships are available only to College/University/Technical College students who meet the following criteria:
Recommended by their school to participate in an officially recognized internship program.
Presently enrolled during the time in which the student plans to serve as an intern.
In good academic standing with their school
At least 18 years of age
No felony convictions or patterns that show disrespect for the law.
Program Participation Acknowledgement
Interns will sign an Internship Program Participation Acknowledgement prior to beginning their internship with Maryland Information Network.
Additional Instructions
Criminal Background checks are required for internships. Internship is contingent upon review and approval of the background check.
All interested interns must submit their resume and a notice of application to Favour@211md.org.
Attention: Intern Program
NOTE: The internship may be terminated at any time if a problem arises during the internship or if circumstances emerge that prevent the use of a Student Intern at a certain program or location. Notification will be sent to the contact person at the school.
For more information, contact Favour Akhidenor, Ph.D. at: favour@211md.org.
Working At Maryland Information Network
I believe each of us must find meaning in our work and it happens at its best when you know that it is not just work, but something that helps improve the lives of others. Employees of the Maryland Information Network, also known as 211 Maryland, strive to make a difference every day. It begins with our Brand Promise "to lift up individuals and communities by linking those with unmet needs to essential resources."
As the 24/7/365 central connector to health and human services for the state, we have a network of call centers, who are heroes supporting those in need. Our technology allows anyone to connect with us by phone, text or chat. Our community partners who work with us make it possible to meet the unmet needs of more than 400,000 Marylanders each year.
Our organizational vision leads us to imagine doing the impossible and our innovation has positioned us to be a leader in our field.
The 211 Maryland team is tight knit. As we expand our team, I get excited about all the ways an individual's talent and experience shape the lives of Marylanders and their individual, professional growth!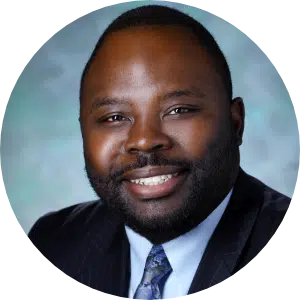 Quinton Askew
President and CEO